President Uhuru Kenyatta has made a major reshuffle in the Treasury, where 30 senior finance officials have been affected.
In a move triggered by malpractices witnessed across the various finances office, Head of Public Service Joseph Kinyua issued an internal memo effecting the transfers, the Daily Nation reported on March 22.
"The following postings have been agreed upon and should be effected immediately. The concerned ministries/departments are required to confirm to this office on release and reporting to the new work stations affected officers," reads an excerpt of Kinyua's internal memo.
According to the report, senior officials managing the exchequer were not hired through the Public Service Commission, but rather moved up as officers.
The only position that was filled using the proper channel was that of Director-General Public Debt Management, where Haron Sirma served as the Deputy Director of Debt Management.
The Kenya National Audit Office raised the matter of the lack of advertising for these top posts since 2013, with the new shuffles set to try and buckle this trend.
The Audit office argued that some of the officials were involved in malpractices due to their allegiance to the individuals who handpicked them for their lofty positions.
To this effect, President Uhuru has effected the reshuffle which sees Amos Gatheca moved from Interior ministry to Treasury, where he replaces Francis Musyimi as Principal Administrative Secretary.
Albert Mwenda was confirmed as the new Director-General, Budget, Fiscal and Economic Affairs, while Stanley Kamau as the Directo-General, Public Investments, and Portfolio management.
Nyangata Mwayi has been appointed as the Senior Chief Finance Officer (CFO) at the State Department for Youth.
Sarah Kerandi has been moved from the Region and Northern Corridor Development Department and will now serve as the CFO at the Devolution Ministry.
Peter Chemwile has been appointed to serve as the Treasury Ministry CFO, having previously served under the Department of Irrigation.
Dismas Ogot was moved to the State Law Office following the latest shuffled while Martin Wamwea has been asked to report to the Fisheries Department.
Ogot replaces Paul Masinde who was moved to the Office of the Director of Public Prosecutions.
Tobias Otieno was moved from Agricultural Research to the Department of Cooperatives as the CFO.
Jim Chira - the previous CFO at the Department of Broadcasting and Telecommunications, was moved to a similar role at the Cabinet Affairs office.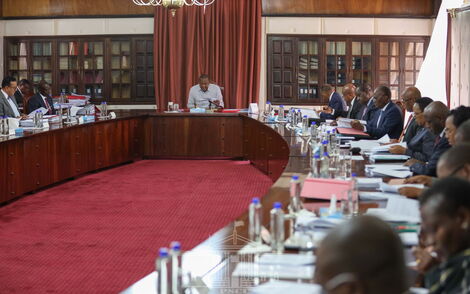 https://www.kenyans.co.ke/news/51093-uhuru-transfers-30-senior-govt-officials