Travellers seeking to get into Uganda through the Busia border point were met by rude shock after they were barred from going into the neighbouring country.
The unsuspecting travellers were forced to turn back as police officers informed them of the Kenya-Uganda border closure.
The closure followed a directive issued by Ugandan President Yoweri Museveni on Saturday, March 22 in which he ordered the closure of all Ugandan border points that was to take effect beginning mid-day Sunday, March 22. The Ugandan President provided that all borders in and out of Uganda would be closed with only cargo trucks and their passengers allowed in and out of the country.
"No person, Ugandan or otherwise, will be allowed to enter Uganda by water or land except for those drivers and accompanying crews-not exceeding three for cargo transport vehicles such as trailers, lorries and other cargo vehicles," decreed Museveni.
The directive would similarly affect cross border passenger vehicles who would be restricted from leaving or entering Uganda from Sunday, March 22.
"No buses, taxis, no minibuses, no saloon cars, no boda bodas will be allowed in the country. Also, pedestrians walking on foot or riding bicycles will not be allowed to enter Uganda by water, by road or by footpath nor will they be allowed to exit by those means" the President said.
As per Museveni's own concession, the measures were put in place in the absence of a collective response from the East African Community on how to handle the spread of Covid-19.
Kenyans.co.ke spoke to a representative from Modern Coast, one of the bus companies that ply that route and received confirmation that they had suspended all trips between Uganda and Kenya.
"We are not doing the trip from Uganda to Kenya or Kenya to Uganda," stated the representative.
She further clarified that they had similarly suspended trips to other East African Countries.
"We suspended trips across Rwanda, Uganda and Tanzania," she stated,
The decree had not only affected their company but she stated that all bus companies have been affected.
"It's all buses from Kenya, the same thing with Uganda, no bus can cross the border," she concluded.
It remains unclear what will happen to Kenyan nationals in Uganda. Permanent Secretary at the Ministry of Foreign Affairs, Macharia Kamau, provided that the government had yet to discuss the fate of the Kenyans in Uganda seeking to return.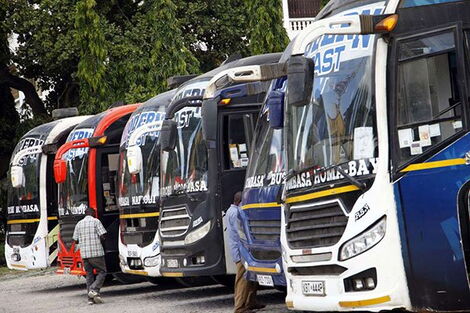 https://www.kenyans.co.ke/news/51121-kenyans-stranded-busia-border-closes