Nandi Governor Stephen Sang' on Sunday, March 22 delivered heavy criticism of the National Prayer Ceremony held at State House, Nairobi on Saturday, March 21 over the Coronavirus (Covid-19) pandemic.
Taking to social media, Sang' claimed that the prayers were laden with hypocrisy, asserting that the ceremony should have started with President Uhuru Kenyatta and Deputy President William Ruto repenting along with opposition leaders.
Sang' opined that the 'sickening' hypocrisy witnessed in the prayers could attract God's wrath, contrary to the planned objective of the ceremony.
He lamented that even the religious leaders who were drawn from several denominations had opted for political correctness in their prayers.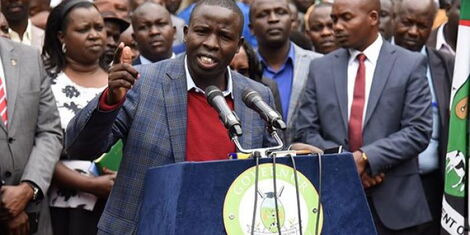 The level of hypocrisy in yesterday's National prayers at State House was sickening. It should have started with repentance, especially by us in leadership (both government and opposition) led by President Uhuru Kenyatta and Deputy President William Ruto.
"It was such a shame to see the very top church leadership direct praise instead of rebuke at us the politicians. It was unfortunate that political correctness was strictly observed even in prayers made," the governor wrote.
Sang' complained that the negative connotations associated with politics in Kenya seemed to be finding their way to the pulpit.
"This kind of mockery in the name of National Prayers is likely to attract more wrath than good. The church leadership in Kenya today must also reflect and revert to their pure sense of calling.
"The unfortunate bad manners in politics must never find its way to church. Our country needs to genuinely get back to its senses," he asserted.
Other than Uhuru and Ruto, leaders who attended the national prayer day included Orange Democratic Movement (ODM) leader Raila Odinga, Wiper Democratic Movement (WDM) leader Kalonzo Musyoka and Amani National Congress (ANC) party leader Musalia Mudavadi.
Addressing the ceremony, Anglican Church of Kenya (ACK) Archbishop Jackson Ole Sapit called for the pandemic to be a turning point for Kenya to shun corruption and negative ethnicity among other ills that have plagued the nation.
"Coronavirus has humbled the mighty … It did not respect political powers, it doesn't respect the military powers of the world. It has threatened us to the core, but our God is above nature as he is the one who created nature.
"Repentance is a call to return to God and turn away from sin. True repentance is more than just talking, but a change of behaviour," Ole Sapit stated.
https://www.kenyans.co.ke/news/51120-uhuru-ruto-fake-prayers-will-anger-god-jubilee-governor