The political talk-show Point Blank hosted by Tony Gachoka will no longer air on KTN News after its suspension was announced on Tuesday, April 7.
The one-hour show which primarily features one-on-one interviews with notable figures in politics and governance usually airs every Wednesday night at 9.45 PM, with re-runs aired on Sunday mornings.
Taking to Twitter, Gachoka explained the suspension stating that the Covid-19 pandemic had led to production challenges due to the show's interactive format.
"Covid-19 has affected how we interact, communicate and congregate. At KTN News and Standard Group, it has changed how we disseminate news and record interactive shows.
"I have decided to suspend #KTNPointBlank with immediate effect until we can see the better end. Let's follow Government advice!" the media personality disclosed.
Point Blank was introduced by KTN in February 2019 and quickly captured the attention of many as it shone a light on key figures involved in political intrigues that often dominate headlines in the country.
However, it also faced a sustained backlash from a section of Kenyans who called out Gachoka's bias, as the presenter made no secret of his opposition to Deputy President William Ruto's much-talked-about 2022 presidential bid.
Gachoka regularly takes on the Deputy President on social media, accusing Ruto of orchestrating grand corruption schemes and vowing that he will not ascend to the highest office in the land.
"#KTNPointblank will soon expose DP Ruto for all to see. I promise!" he tweeted on Monday, March 9, for instance.
While some Kenyans such as city lawyer Donald Kipkorir have praised Gachoka for wearing his political beliefs on his sleeve, to supporters of Ruto, Point Blank has been perceived as a tool used by leaders opposed to Ruto to propagate their stances.
It, therefore, came as no surprise that news of the show's suspension was met with glee by some netizens.
"Thank God. I stopped watching a long time ago. You are not a good interviewer. You interrupt and force your opinions. Bye Bye" wrote Jedi Mbura.
"Good riddance. Poetic Justice served. I wish today was yesterday so that it could have ended even before it started," wrote one Omulamuzi.
Ardent viewers, however, revealed that they would miss the show even as they asked Gachoka to consider using video links to interview his guests without contravening government directives on Covid-19.
"It was my favourite show. Very forthright discussions with solutions to matters discussed at hand. Maybe you could explore doing video call/skype interviews for your guests," wrote one Christine N.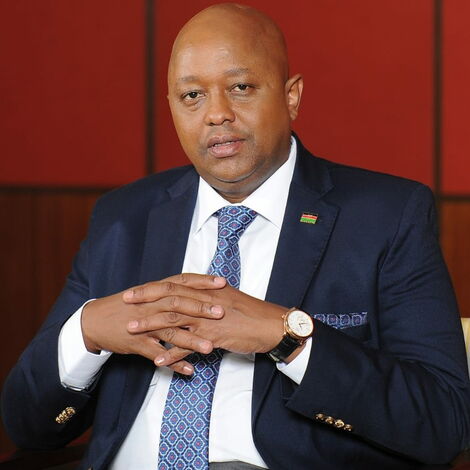 Source
https://www.kenyans.co.ke/news/51775-tony-gachokas-ktn-show-suspended