A 'zonkey' born recently at Chyulu Hills National Park, Makueni County after a zebra mated with a donkey is making global headlines.
The mother is a Zebra who until May 2019 had strayed out of the Tsavo East National Park in Taita Taveta County and was comfortably living with a local woman's herd of cattle where she stayed for weeks until the story was highlighted by the media.
The Kenya Wildlife Service (KWS) Community Warden at Mutomo Station made the Tsavo Mobile Veterinary Unit aware of the situation and a team from the Sheldrick Wildlife Trust (SWT) was later brought in to help translocate the zebra to a protected area.
It was then translocated to the Kenze Anti-Poaching Team's base at Chyulu Hills where it adapted to life quickly and everything appeared normal, until a few weeks ago when workers at the park noticed the zebra with an unusual tiny foal, with only a few stripes and a general appearance closer to a donkey's than a zebra's.
It soon became apparent to experts upon examination of the foal that during the mother Zebra's time with the cattle herd in Taita Taveta, out of her natural habitat, the zebra had mated with a donkey.
According to the SWT, both the mother and the baby are healthy and thriving at Chyulu National Park, and have been pictured running, grazing and visiting watering holes.
Speaking to Kenyans.co.ke, Kenya Wildlife Services (KWS) spokesperson Paul Udoto described the birth as a 'unique development' even as he emphasised that it was not the first time a 'zonkey' had been born in Kenya.
Explaining that while the story of the zonkey had been picked up by the international media, it wasn't exactly what Kenya was looking to sell to the world in terms of tourism.
"It's happened before in Tsavo, we even had another one here at Safari Walk, I think it passed away. It happens. For example, there have been times when common zebras mate with the gravy zebras and they produce mules. This is simply a cross-breed between a donkey and a zebra, you know zebras are also genetically related to donkeys so there also cases of them mating.
"It's a misnomer of sorts. I don't have first-hand information on how our team on the ground is handling it, I think it has become a big issue because the story has been picked up by international media, but this has happened before," he noted.
Reacting to Kenyans.co.ke that the global limelight would potentially put the rare animal at risk, as was witnessed with the country's only rare white giraffe which was found dead in March, Udoto maintained that the situations were not the same.
"You know, this is not the tourist attractions we offer in Kenya. What Kenya offers is wild animals in their natural habitat. This is a unique development but it's a misnomer.
"It's not like the white giraffe for people to simply compare like that. Our greatest advantages in terms of tourism are wild animals in their natural habitat, like the Nairobi National Park which is the only national park located next to a major city," he reiterated.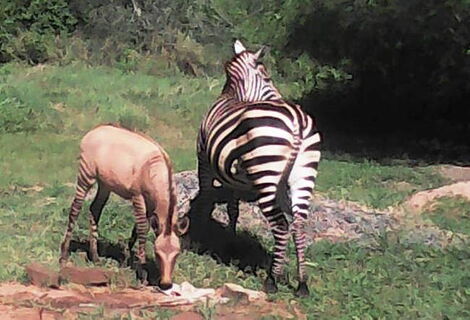 https://www.kenyans.co.ke/news/51965-rare-zonkey-born-kenya-after-zebra-mates-donkey-photos