Zlatan Ibrahimovic Net Worth:
$190 Million
Zlatan Ibrahimovic's Salary
$35 Million
Zlatan Ibrahimović Net Worth: Zlatan Ibrahimović is a Swedish professional football player who has a net worth of $190 million. Ibrahimović is widely regarded as one of the best strikers of all time. He is one of the most decorated active footballers in the world, having won 31 trophies in his career.
Early Life: Zlatan Ibrahimović was born in Malmö, Sweden, on October 3, 1981. His father, Šefik Ibrahimović, emigrated to Sweden from Bosnia in 1977 and is Muslim. His mother, Jurka Gravić, emigrated to Sweden from Croatia and is Catholic. His parents met in Sweden. Ibrahimović was raised Catholic. Ibrahimović has one sibling and four half-siblings. Ibrahimović's parents divorced when he was a child, and although his upbringing was divided between them, he spent more time with his father growing up. He started playing soccer at six with several local clubs. By the time he was 15, he was close to quitting football and working at the docks in Malmö instead but his coach convinced him to keep playing.
Career: Ibrahimović signed with Malmö in 1999. He transferred to Ajax in 2001. He won the Eredivisie title with the club in 2001-2002 and scored four times in the Champions League before Ajax was knocked out by A.C. Milan. In 2004, his tally against NAC earned "Goal of the Year" honors. He was moved to Juventus later that year after accusations from his teammate Rafael van der Vaart that Ibrahimović hurt him on purpose. While with Juventus, he was awarded the Guldbollen, an honor given to the Swedish football player of the year. Ibrahimović would go on to play with Internazionale, Barcelona, A.C. Milan, and Paris Saint-Germain. He is part of the Swedish national team, rejecting the opportunity to play for Croatia and Bosnia and Herzegovina. Ibrahimović has played in several World Cup qualifiers and was named captain of the national team in 2012. Sweden failed to qualify for the 2014 FIFA World Cup.
Ibrahimović was named in the FIFA FIFPro World XI in 2013 and the UEFA Team of the Year in 2007, 2009, 2013 and 2014. He finished at a peak of fourth for the FIFA Ballon d'Or in 2013. He was named the third-best footballer in the world by The Guardian in late 2013. FourFourTwo magazine named him the third-greatest player never to win the UEFA Champions League. In December 2014, Swedish newspaper Dagens Nyheter ranked him the second-greatest Swedish sportsperson ever, after tennis player Björn Borg.
In October 2015, he became PSG's all-time leading goalscorer at the time. In 2016, he joined Manchester United on a free transfer and won the FA Community Shield, Football League Cup, and UEFA Europa League in his first season. Ibrahimović joined the American club LA Galaxy in 2018. Two years later, he rejoined Milan.
Ibrahimović is one of ten players to have made 100 or more appearances for the Swedish national team, over a 15-year international career. He is the country's all-time leading goalscorer with 62 goals.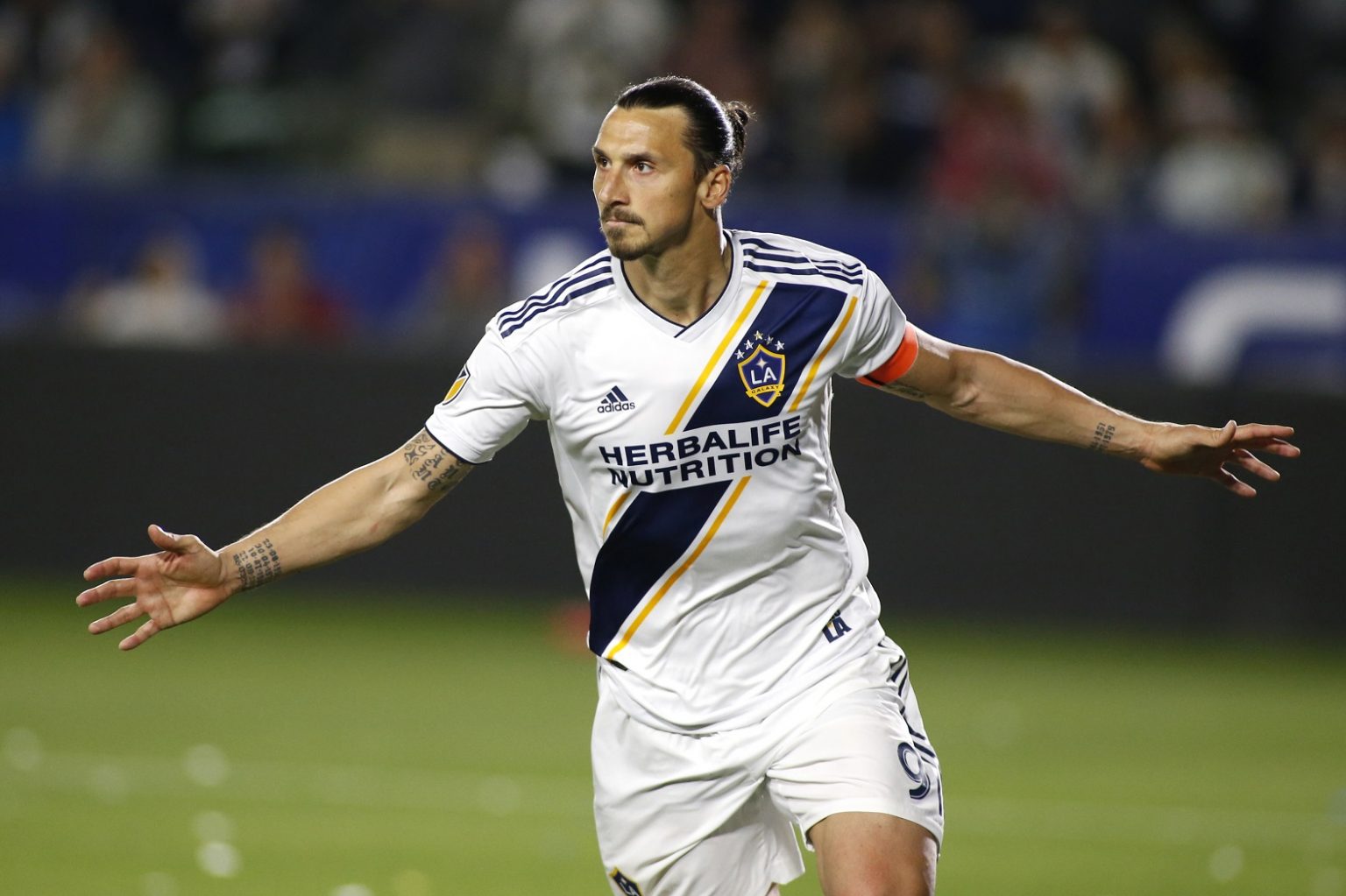 Katharine Lotze/Getty Images
On October 8, 2019, a statue of Ibrahimović was unveiled in his hometown, outside Malmö's Stadion. The statue is 8 feet 9 inches tall and weighs almost 1,100 pounds.
Off the field, Ibrahimović is known for his brash persona and outspoken comments, in addition to referring to himself in the third person. Ibrahimović has attracted criticism for being involved in several fights, including some with his own teammates.
The sports documentary Becoming Zlatan was released in February 2016. The film follows Ibrahimović through his formative years with Malmö FF and Ajax all the way to his breakthrough with Juventus in 2005. The film has been featured at several film festivals including the International Documentary Film Festival Amsterdam, Helsinki Documentary Film Festival, and the Rouen Nordic Film Festival amongst others.
Personal Life: He and long-time partner Helena Seger have two sons: Maximilian (2006) and Vincent (2008). He and Seger and their kids currently reside outside Los Angeles, although he still has a home in Malmö, where he spends his summers.
He is fluent in five languages- Swedish, Bosnian, English, Spanish and Italian.
He does not drink alcohol but considers himself a sugar junkie.
On August 11, 2014, Ibrahimović paid $51,000 to send the Swedish national football team for the intellectually disabled to the INAS World Football Championships in Brazil. He did this after teammates Johan Elmander, Kim Källström, Andreas Isaksson and Per Nilsson donated autographed jerseys to be auctioned off for the cause, Ibrahimović responded, "What the hell are you going to do with a shirt? How much is it to go?"
His surname is tattooed in Arabic on the back of his right arm. He has the names of his sons Vincent and Maximilian on his right arm. He has the common Buddhist "Five Deva Faces Yantra" representing wind, water, fire, creative perception and space, arranged in a way believed to ward off illness and injury, on his lower back. Another Buddhist tattoo, a "Yant Prajao Khao Nirote" is a protective emblem intended to end the suffering of a family, is on his upper right arm. The phrase 'Only God can judge me' is tattooed on his rib cage, said to reflect Ibrahimović's religious and rebellious nature. He also has a feather, a Koi fish, Polynesian tribal, and ace of hearts and clubs tattooed on his body.
Salary Highlights: When he played for Manchester United, his peak annual salary was $35 million. In his last year at Manchester United he was earning $27 million. When he joined the LA Galaxy in 2018, he accepted a $1.4 million salary.
Real Estate: Ibrahimović and Seger live in a mansion in Beverly Hills, California with their sons and their dog. Ibrahimović also has a home in Malmö.
https://www.celebritynetworth.com/richest-athletes/richest-soccer/zlatan-ibrahimovic-net-worth/