Former Nakuru Deputy Mayor, Joseph Munyiri, was arrested on Tuesday, April 28, over allegations of battering his wife, Joyce Wangui.
According to police reports, the Munyiri's charge sheet was penned as causing grievous bodily harm to his spouse.
Reports revealed that the spat between the two stemmed from Munyiri selling a 32-inch television set to his friend at Ksh2,000 without his wife's knowledge or approval on Monday, April 27.
He allegedly failed to record the transaction in the books at his wife's electronic shop located in Menengai Ward, Nakuru East, upon his sale, causing her to question him over the unorthodox deal.This is reportedly what resulted in the ex-deputy mayor reigning down on Wangui with kicks and blows, causing her grievous injuries to her face including dental trauma.
Witnesses further claimed that he was angered by her questioning his actions in front of his friends at the shop.
"He has anger problems. While beating me up yesterday (Monday, April 27), he threatened he would kill me. He even followed me to the hospital as I went to seek treatment," the injured Wangui told the police.
"He often brags that he is the man of the house, whose authority shouldn't be questioned by his wife. He often says he has a right to sell anything at my shop without seeking my consent," she further revealed.
The battered wife sought treatment at Nakuru Mediheal Hospital, while her spouse was whisked away to the Menengai Police Station.
Munyiri had vied for Menengai Ward Jubilee Party ticket in the 2017 general election but ended up on the losing side.
The incident came just weeks after the Ministry of Health Chief Administrative Secretary, Dr Mercy Mwangangi, announced the alarming rise in domestic violence incidents in the country.
"Since the government issued the directive of the dusk till dawn curfew, gender-based violence cases have been on the rise," she revealed, adding that she had herself witnessed gender-based violence at home.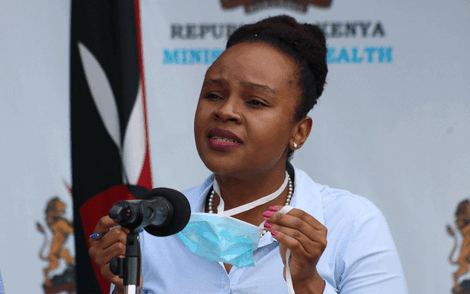 https://www.kenyans.co.ke/news/52608-ex-mayor-arrested-beating-wife