A dive into Sports CS Amina Mohamed's CV by Kenyans.co.ke revealed the achievements of a career diplomat.
During her stint as the Ambassador and Permanent Representative for Kenya's diplomatic mission at the UN (2000-2006), she became the first woman to chair the General Council of the World Trade Organization (WTO).
More to that, Amina also became the first African as well as the first woman to chair the International Organization for Migration Council at WTO.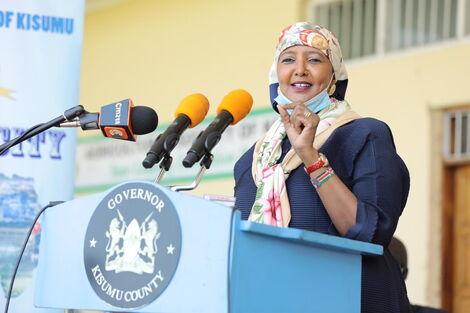 Sports CS Amina Mohamed speaking during the ground breaking ceremony of Jomo Kenyatta International Stadium at the ASK Kisumu Showground in Mamboleo, Kisumu County on June 24, 2020.TWITTER
Amina is known for her analytical and interpersonal skills which she developed during the course of her career in the diplomatic arena.
Her admirable negotiation skills served her well and she effectively articulated global issues pertaining to the WTO.
As the first woman and first African to chair the WTO's highest forum, she played a crucial role in reaching positive outcomes, especially the decision to eliminate export subsidies in agriculture.
This was the first fulfillment of the UN Sustainable Development Goal, under SDG2-Zero Hunger.
As General Council Chair, she brokered an agreement of major importance to developing countries, an amendment to the TRIPS Agreement to assist countries with insufficient manufacturing capacities in the production of essential drugs to treat diseases such as HIV/Aids and Tuberculosis.
Currently, she is the president of the 14th session of the UN Conference on Trade and Development (UNCTAD) and former assistant secretary-general and deputy executive director of the UN Environment Program (UNEP)
The accomplished CS has two local presidential awards; Elder of the Order of the Golden Heart and Chief of the Order of the Burning Spear.
She also has two foreign presidential awards; Knight of the Order of the Star of Italian Solidarity and the Grand Cordon of the Order of the Rising Sun from the Japanese government.
President Uhuru Kenyatta has thrown his weight behind her as the seeks to become the next director-general of the World Trade Organisation.
She was admitted to the bar on Friday, July 3, in a ceremony was presided over by Chief Justice David Maraga at the Supreme Court.
Away from her diplomatic career that spans over 30 years, Amina is a family woman with two children.
With the help of her husband Khalid Ahmed, she also raises four orphans.