Paul George Net Worth:
$80 Million
Paul George's Salary
$33 Million
Paul George net worth and salary: Paul George is an American professional basketball player who has a net worth of $80 million dollars. Paul is one of the most-admired and highly-paid NBA stars of all time. Between June 2017 and June 2018, Paul George earned $30 million between salary and endorsements which was enough to make him one of the highest paid basketball players on the planet. In July 2018 Paul signed a four-year $137 million contract. Starting in 2018 his annual salary topped $30 million for the first time. He earns $8 million per year from endorsements.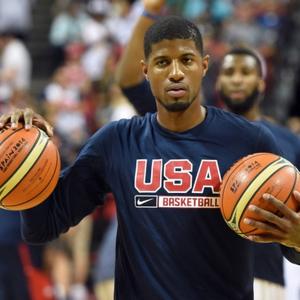 Paul George was born in Palmdale, California on May 2, 1990. He grew up in a family of basketball players. His siblings both played basketball at the collegiate level and he practiced with them throughout his school years. It wasn't until high school that he began playing basketball on a team. He was moved to varsity play part way through his sophomore year. By the time he reached his senior year, he'd already caught the eye of multiple recruiters. He went on to win numerous sports honors his senior year, and then chose to enroll at California State University – Fresno. He quickly made a name for himself playing for Fresno, and was chosen as one of Sports Illustrated's "Top 16 Most Entertaining Players in College Basketball". He chose to enter the 2010 NBA draft and subsequently signed with the Indiana Pacers. Since joining the team, he has been a 2-time NBA All-Star selection and an All-NBA Third Team selection, among other honors. By making the Third Team All NBA in 2014, Paul George earned a reported $7 million bonus from the Pacers. This bonus comes after Paul put up some impressive postseason numbers, scoring an average of 22.6 points per games with 7.6 rebounds.
Personal Life: Paul's longtime girlfriend is Daniela Rajic. Rajic is a former stripper. They met in 2013 while she was working at a strip club called Tootsies in Miami. A year after meeting, Daniela filed a lawsuit against Paul in which she claimed the he offered her $1 million to abort their baby. They ultimately reconciled and had another child together.
Real Estate: In 2016 Paul paid $7.4 million for a 16,000 square-foot home in Hidden Hills, California that sits on 1.35-acres. He listed the home for sale in June 2020 for $9.5 million.
In September 2019 Paul paid $16 million for a home in LA's Pacific Palisades neighborhood. The home was previously owned by fellow NBA star DeAndre Jordan who bought it in 2015 for $12.7 million.
https://www.celebritynetworth.com/richest-athletes/nba/paul-george-net-worth/