Do you still call Monday a bad day? Think again because all these wonderful events have happened on Monday.
Monday, August 3, 1936. - Jesse Owens wins his first gold medal in the men's 100-meter dash at the Summer Olympics in Berlin.
Monday, February 12, 1947. - Seems like an entire century back, right? Well, that's the only day in history that records a daytime fireball and meteorite, in Eastern Siberia.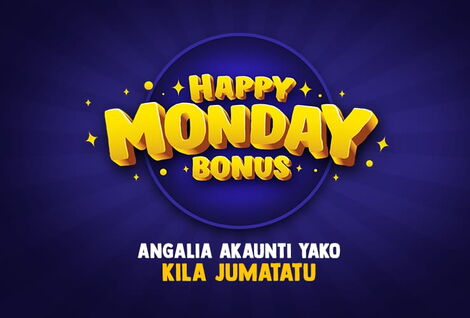 Monday, January 21, 1963 - Hakeem Olajuwon was born. Now retired, the Nigerian/American professional basketball player was inducted into the Basketball Hall of Fame. Listed as 7 feet and 16 inches tall, he's considered one of the greatest centres ever to play the game.
Monday, February 14, 2005 - The all-favourite YouTube is born. There's not a cave deep enough to hide from the cheeky tidings streaming forth on YouTube.
Monday, September 2, 2013. - On this foggy morning, Diana Nyad (64 yrs) became the first person to complete the 110-mile swim from Cuba to Florida - after, wait for it, four failed attempts! A 64-yr-old.But what about now? What is so great about this Monday?
Well, today is your lucky day. There's a never-seen-before occurrence that's set to revitalize Mondays in a huge way. And, it's a pleasant effort from Mozzart - Kenya's leading gaming giant. It's a timely, well-thought gesture by the firm, in a bid to help cushion gamers from the extreme end of Covid-19 financial effects.
What better way to spice up an entire week? Viva, Happy Monday Bonus!
Happy Monday Bonus enjoys ZERO RESTRICTIONS!
As long as one has opened an account at www.mozzartbet.co.ke which is activity updated - be it a year, several months, or just a week old - one qualifies! Each Monday pleasantly surprises you with a bonus!
Mozzart has a generous array of gaming options available for their clients. For instance, the virtual games jackpot and the Mozzart Lucky Super Six.
"Whether you will use it to play, or transfer it to your M-Pesa mobile wallet to withdraw it later - the decision is yours! The bonus awaits you every Monday," a statement from Mozzartbet reads.
Grab this bonus! Here's how:
1. Log into your account on mozzartbet.co.ke
2. Click on the Bonus icon
3. Take your bonus
4. After receiving the notification, refresh the page
If you have not done it yet, go to mozzartbet.co.ke and grab your bonus!
https://www.kenyans.co.ke/featured/58795-mozzart-makes-monday-best-day-week