Chad Ochocinco Johnson Net Worth:
$5 Million
Chad Ochocinco Johnson Net Worth: Chad Ochocinco Johnson is a former profession American football wide receiver and reality star who has a net worth of $5 million. He played eleven seasons in the National Football League (NFL) for the Cincinnati Bengals, New England Patriots, and the Miami Dolphins.
Early Life and College Career: Chad Javon Johnson was born on January 9, 1978, in Miami, Florida. He graduated from Miami Beach Senior High School in 1997, and went on to attend Langston University, where he did not play football. Later, he transferred to Santa Monica College in California, where he played football. Finally, in 2000 he transferred to Oregon State University after being recruited by the OSU football coach Dennis Erickson.
Professional Football Career: Johnson began his professional football career in the National Football League in 2001, when the Cincinnati Bengals chose him in the second round of the draft with the 36th overall pick. He performed well in his early seasons, setting a Bengals franchise record in 2005 when he recorded 1,432 yards. However, his successes on the field were often overshadowed by what many considered his "diva-like" behavior. His propensity for bragging and his continual disregard for authority made problems for everyone. Though he was named to the Pro Bowl team six times, the Bengals eventually decided to let Johnson go for the health of their team in 2010.
In July 2011 he was hired by the New England Patriots in a trade with Cincinnati, but played for the team for less than a year before being let go. He was then signed by the Miami Dolphins in June 2012, but was released from his contract in August that same year after being arrested for domestic abuse against his reality star wife Evelyn Lozada. In 2014 Johnson signed a two-year deal with the Montreal Alouettes of the Canadian Football League (CFL), however he only appeared in five regular season games during the 2014 season. After not attending the mandatory spring training camp, he spent the entire 2015 CFL season on suspension, and was not offered a new contract. His only appearance in a professional football game since then was in 2017, when the Monterrey Fundidores hired him for one game in the Liga de Futbol Americano Professional de Mexico. He caught three passes in the April 2 game, helping Monterrey defeat the Saltillo Dinos.
Chad Johnson Salary History:
Year Team Earnings
2001 Cincinnati Bengals $300 thousand + $1.4 million bonus
2002 Cincinnati Bengals $351 thousand
2003 Cincinnati Bengals $426 thousand + $7 million bonus
2004 Cincinnati Bengals $526 thousand
2005 Cincinnati Bengals $1 million + $3.5 million bonus
2006 Cincinnati Bengals $2.75 million + $5 million bonus
2007 Cincinnati Bengals $2.5 million + $5 million bonus
2008 Cincinnati Bengals $3 million + $5 million bonus
2009 Cincinnati Bengals $4.5 million
2010 Cincinnati Bengals $3.5 million
2011 New England Patriots $925 thousand
2012 Miami Dolphins $0 (Johnson was cut before making the regular season roster)
Total career earnings: $46.678 million
Other Projects and Pursuits: Outside of the NFL, Johnson pursued a wide variety of projects. In 2010, he released the iPhone game "Mad Chad," which he co-designed with RockLive. That same year, he participated in season ten of the popular competition show "Dancing with the Stars," where he was paired with two-time champion Cheryl Burke. He made it to the final four competitors on the show before being eliminated. He also starred in his own reality television dating show on VH1, "Ochocinco: The Ultimate Catch." Additionally, he lent his voice and image to EA's 2006 video game "NFL Street 3," where he appeared on the game cover and also narrated tutorials alongside Clinton Portis and Byron Leftwich.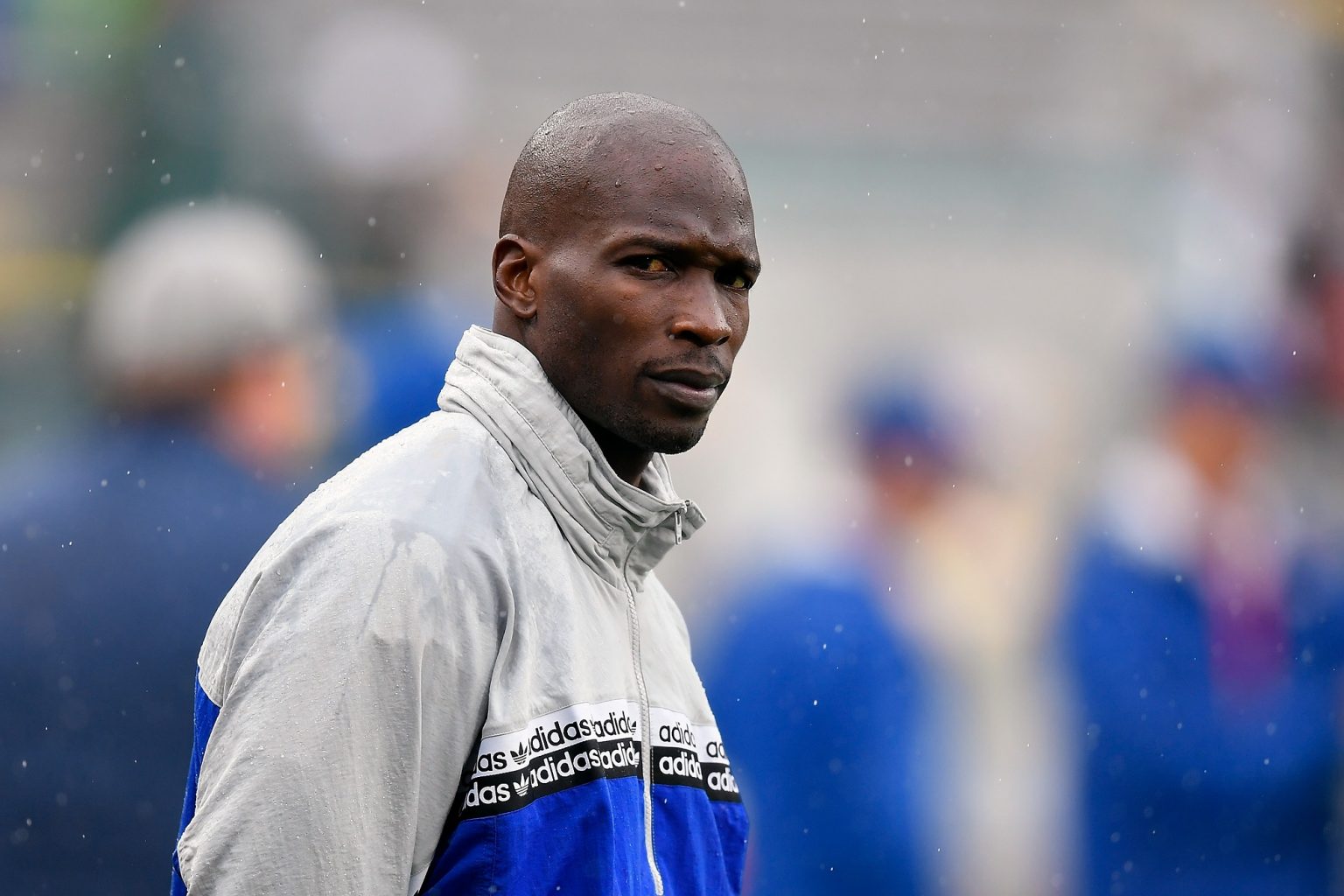 (Photo by Quinn Harris/Getty Images)
Personal Life: He began dating Evelyn Lozada in early 2010, and proposed to her that November. They married in July 2012. After Johnson was arrested on August 11, 2012, on a charge of domestic battery, he was released by the Miami Dolphins. Three days later Lozada filed for divorce, which was finalized in September 2012. He accepted a plea deal that gave him a year a probation, however a warrant was issued for his arrest in May 2013 for allegedly violating the terms of his probation. He turned himself in, and was sentenced to thirty days in jail, although he only served seven of those days and was released after apologizing to the court.
Johnson has eight children. In November 2012, Johnson, made headlines when the mother of one of his children sued the out-of-work football player for failing to make child support payments. Johnson allegedly has failed to make his court mandated payment of $5250 for several months in a row. In a June 2013 court filing, Chad reported that every month he loses $45,000. His income today is just $3000 a month but every month he owes $16,000 in child support, $9000 in mortgages, $3000 on food, $3000 on car payments… In the same court filing, Johnson listed his total assets at just under $5 million, including two houses and two luxury cars.
In honor of Hispanic Heritage Month, Johnson announced he would prefer to be referred to as "Ocho Cinco," which means "eight five" in Spanish. The name is a reference to his jersey number, 85. He legally changed his name to Chad Javon Ochocinco on August 29, 2008, and was allowed by the Cincinnati Bengals to have it on the back of his jersey. He kept the name "Johnson" on his jersey for the 2008 football season however, in order to fulfill his contractual obligations with Reebok. He thus debuted his new "Ochocinco" jersey in the 2009 season. He legally changed his last name back to Johnson in 2012.
https://www.celebritynetworth.com/richest-athletes/nfl/chad-ochocinco-johnson-net-worth/