Introduction
We recently got our hands on the TCL 10 5G UW for Verizon in the US. It is slightly different from the TCL 10 5G available in Europe but shares most of its internals such as the 6.5-inch LCD screen, the Snapdragon 765G chipset, and the 4,500 mAh battery.
The TCL 10 5G UW is also the most affordable 5G smartphone available from Verizon (or from any other US carrier for that matter).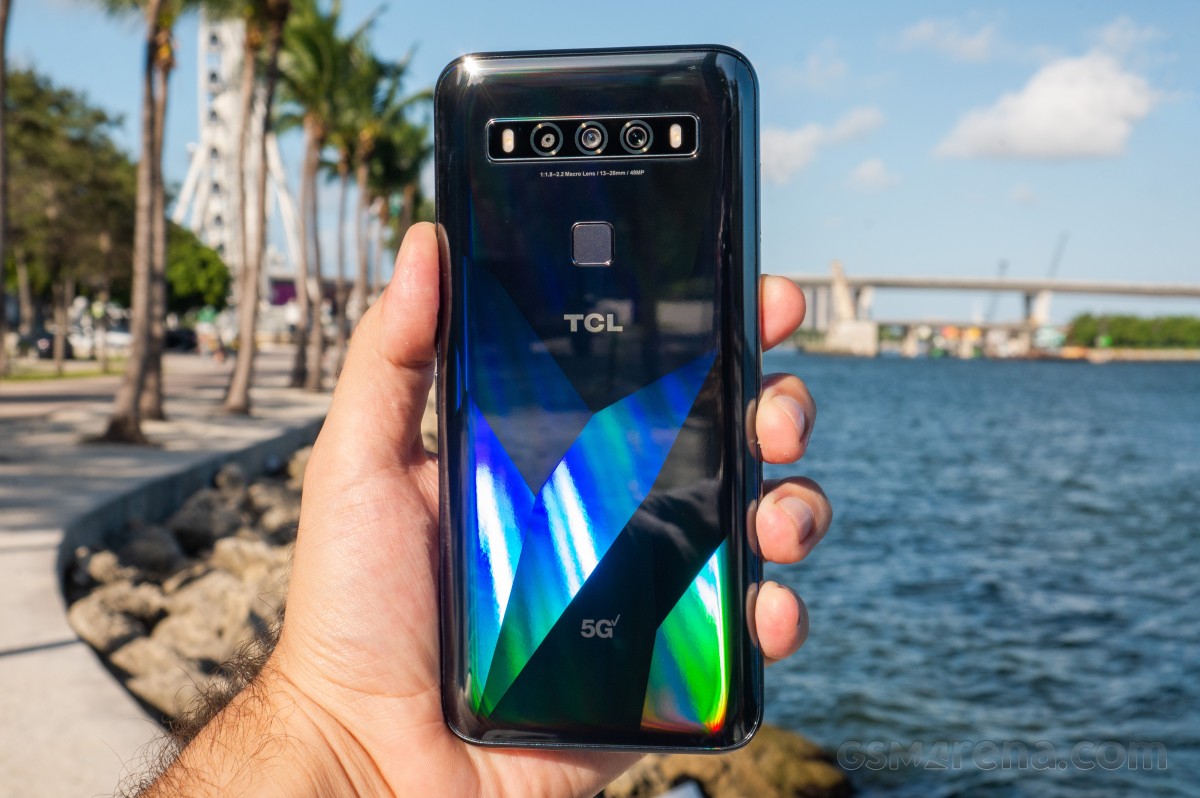 Most importantly, however, we figured it's a great opportunity to see the current state of Verizon's 5G UW (Ultra Wideband) mmWave network. We already did some 5G speed testing in Europe (sub6 networks only), but Verizon's super-fast 5G UW network is the true white unicorn.
TCL 10 5G UW specs:
Body: glass back with glossy metal frame, Diamond Gray color, punch-hole selfie camera; 163.6 x 76.5 x 9.4 mm
Display: 6.53" IPS LCD with FHD+ resolution 1080 x 2340 px; ~395ppi
Software: Android 10
Chipset: Qualcomm Snapdragon 765G Octa-core (1x2.4 GHz Kryo 475 Prime & 1x2.2 GHz Kryo 475 Gold & 6x1.8 GHz Kryo 475 Silver); Adreno 620 GPU
Memory: 128GB (expandable via microSD card) + 6GB RAM
Battery: 4,500 mAh, includes 18W fast-charger
Camera: 48MP 26mm (wide), 1/2.0", 0.8 µm, PDAF; 8MP 13mm (ultrawide) f/2.2, 1/4.0", 1.12µm pixels; 5MP (macro) f/2.2, AF;
Front camera: 16MP, f/2.2, 26mm, 1/3.06", 1.0µm pixels
Video: 4K @ 30fps, 1080p @ 30/60/120fps (main); 1080p@30fps (front)
Misc: 3.5mm headphone jack, rear-mounted fingerprint scanner, NFC, microSD card slot
For context, Verizon has been handling 5G in its own way. If you've checked our 5G primer, you already know that 5G is not just a single type of network.
"Sub-6" is what you call any 5G using the bands sitting below 6GHz. In contrast, "mmWave" or 'Wide Band' uses the bands in the 26-28GHz range.
Lower band 5G allows for more coverage per tower, while higher band 5G comes with smaller coverage but faster possible speeds. That's why to fully envelope a city a carrier needs an order of magnitude more towers for mmWave than if it was using something between 3-6GHz. 5G mmWave also has a much higher signal attenuation (dropping) when passing through obstacles such as walls and windows.
While the network speeds attainable on mmWave 5G are probably the technology's poster child, most carriers worldwide have chosen to start developing their networks in the sub-6GHz range. And when we say 'most,' we mean practically everybody else but Verizon.
Phones supporting mmWave also need to fit more radio antennae so their internal design is more challenging. With the current state of things, making mmWave compatible phones means you are making them for Verizon only.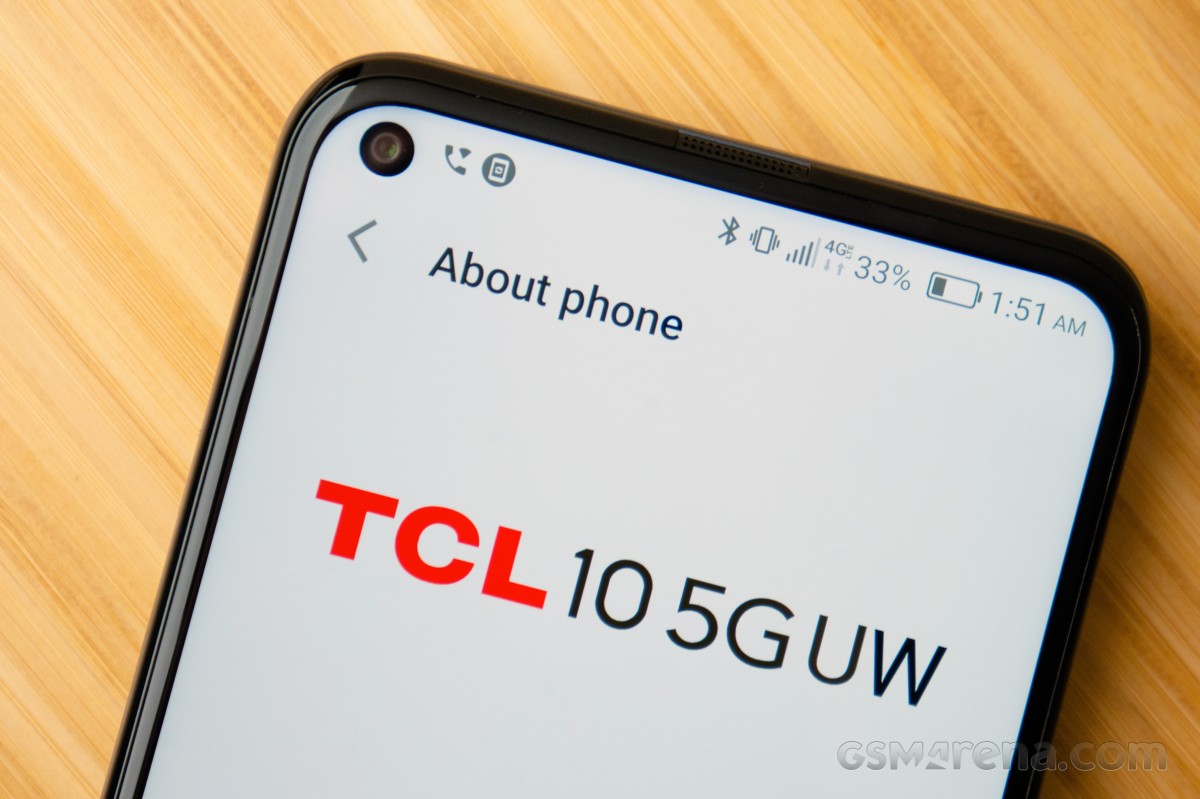 You can rest assured that all of Verizon's current 5G smartphones are compatible with its 5G UW network. Until recently that meant their 5G connectivit was limited to the few places where there was 5G UW signal.
But Verizon also just launched its nationwide low-band 5G network. This conveniently coincided with the Apple iPhone 12 launch, and yes, you can use Apple's latest devices to enjoy both types of 5G networks. But most importantly, it meant you can get a much wider 5G coverage with any of the other phones, too.
So what if you didn't have a 5G-enabled iPhone? What sort of speeds can you expect? Is 5G something to get excited about in 2020? This is the sort of questions we'll attempt to answer in this article.
But first, let's look at the design and hardware of Verizon's exclusive TCL 10 5G.
TCL 10 5G design and hardware
The TCL 10 5G UW is based on the TCL 10 5G released to European markets. The UW model's main difference is the slight camera downgrade - the main camera is a 48MP one rather than a 64MP shooter, and there is no depth sensor.
Both feature the same geometric reflective iridescent pattern on its glass back. This color is called Diamond Gray. The back panel is 3D glass, and the frame wrapping around the phone is made of aluminum with a dark, glossy coating. The 10 5G UW feels solid and well-built, and its weight is well-distributed.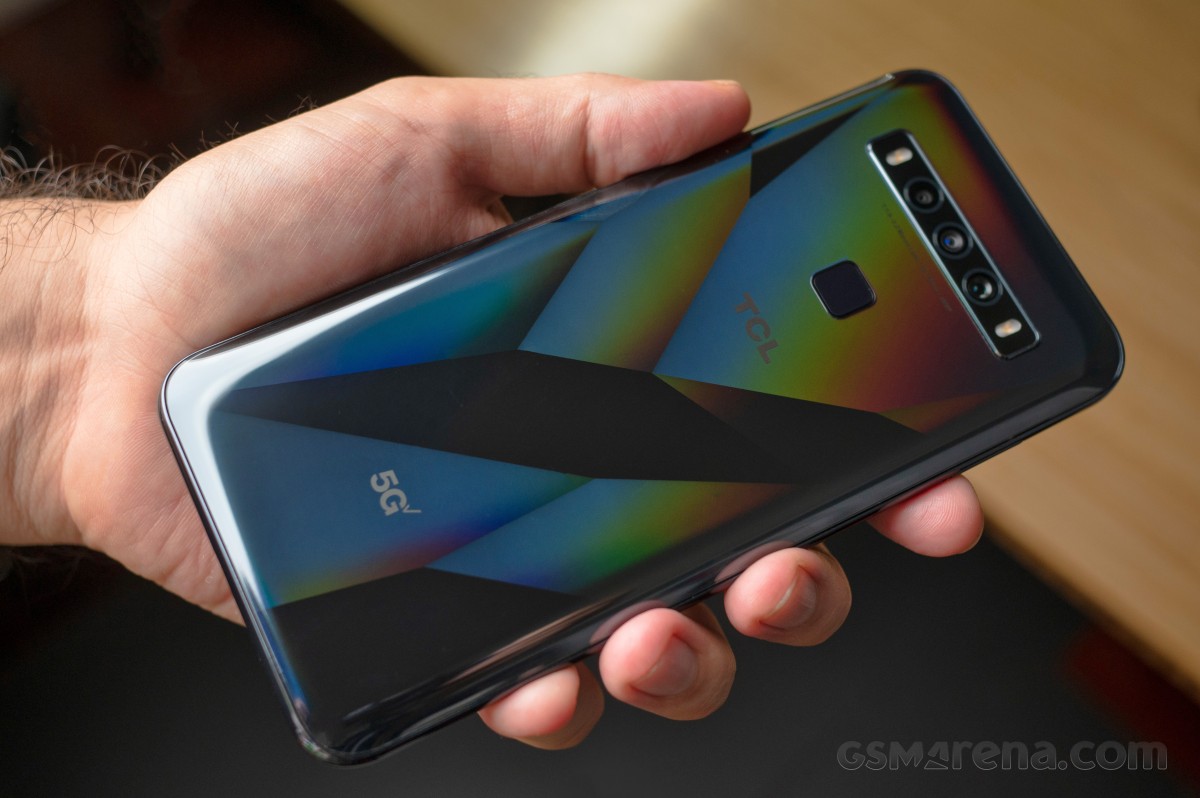 We like the design on the back. It's a unique design that doesn't try to emulate some other brand's look. Aside from the attractive reflect-y back panel of the phone - which does have a very nice gentle curve towards the edges - the camera setup is arranged in a rather long horizontal arrangement. There are dual-LED flash diodes on either end of the camera setup (which barely protrudes from the phone's back). Below the tiny lettering of the camera specs, there's a square fingerprint scanner.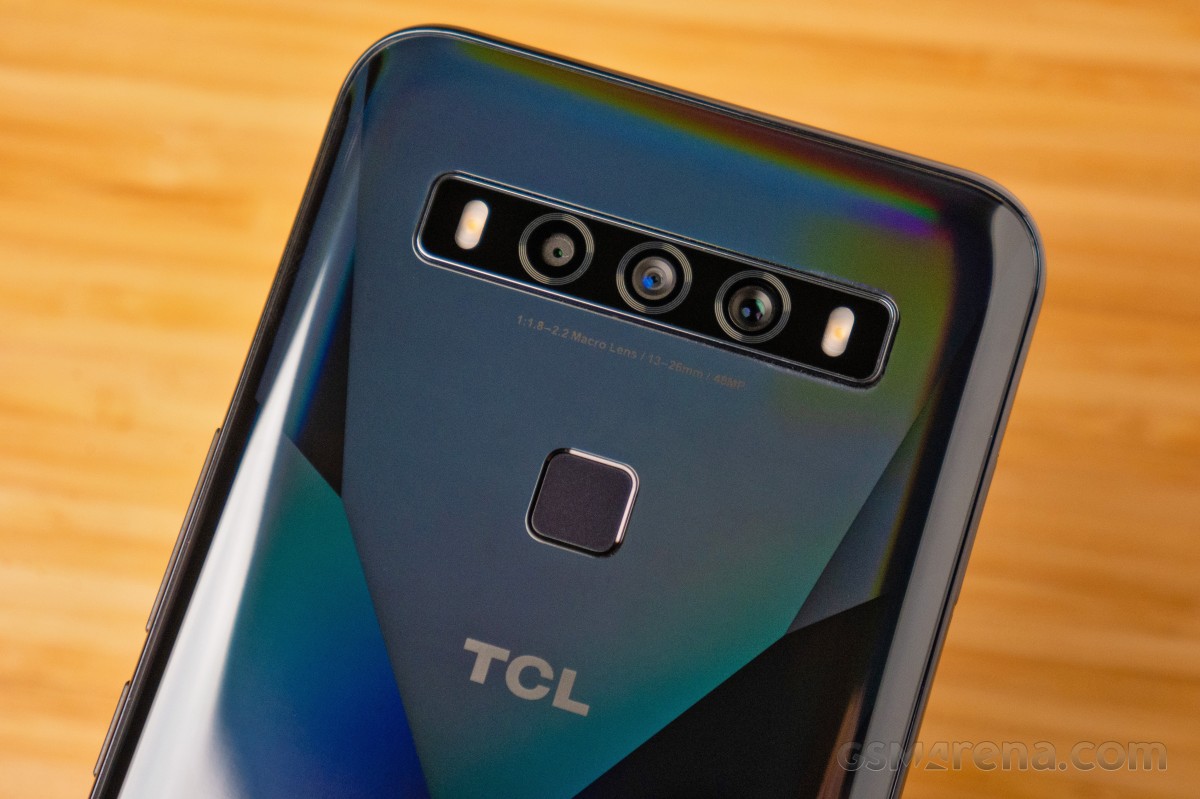 Though the phone's back is pleasant and pretty, it's a bit more generic around the front. A plastic buffer between the frame and the display blends the two components well. This is a 6.53-inch LCD screen with FHD+ resolution and a 19.5:9 aspect ratio. Keep in mind this isn't a high-refresh rate display.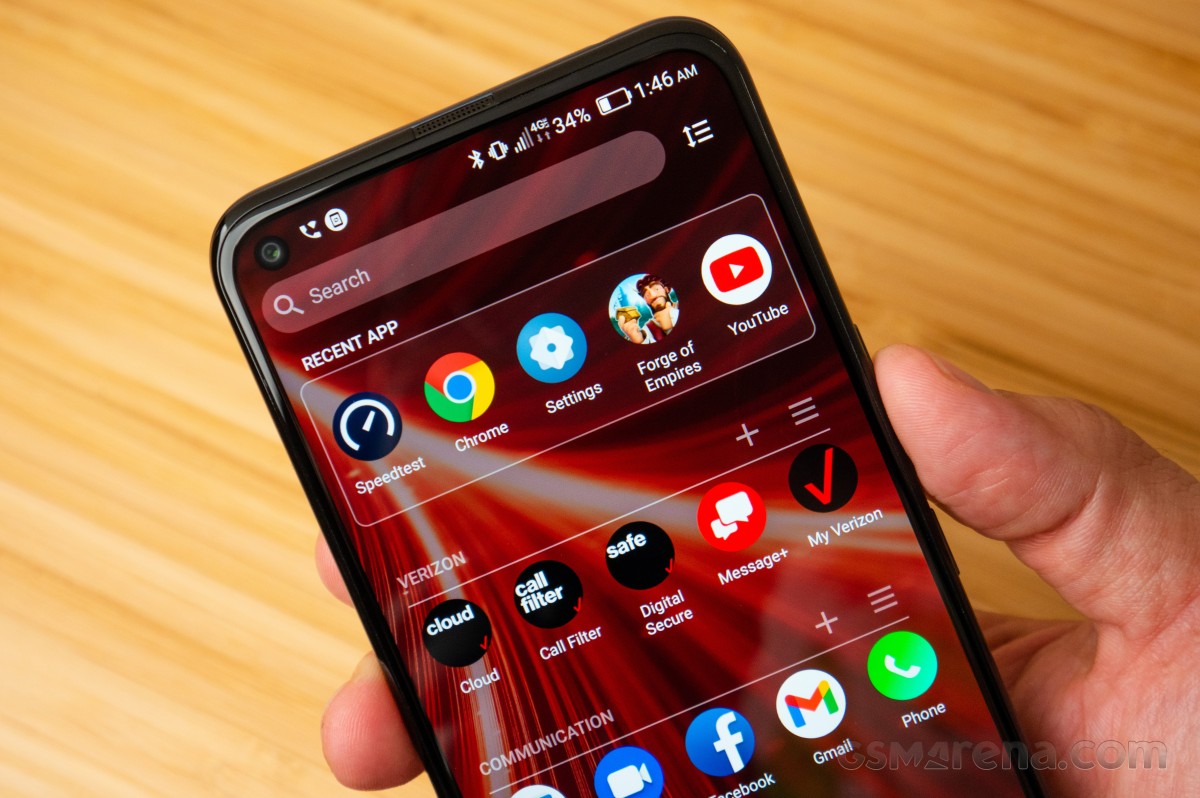 The selfie camera is a 16MP snapper behind the punch-hole cutout. Whenever we see a punch-hole implemented with an LCD panel, there's often a kind of brightness inconsistency in the area immediately surrounding the cutout - it's noticeable on white backgrounds. Still, it's par for the course for pretty much any LCD with a punch-hole camera.
Just above the screen, there's an in-call speaker, though this is its only purpose, as the 10 5G UW doesn't have stereo loudspeakers. There's a single, downward-firing speaker at the bottom of the device flanked by the USB-C port and an in-call microphone grille.
Meanwhile, at the top, there's a 3.5mm headphone jack.
There aren't any keys on the phone's left side, but the SIM tray accessed here, with a microSD card slot for expandable storage. The right side has the power and volume keys.
Now that we've seen the 10 5G UW's hardware, head to the next page to see what 5G has to offer in Miami.
Hunting for 5G in Miami
Currently, there are three cities in South Florida with Verizon's 5G Ultra Wideband: Miami, Tampa, and Panama City. Fun fact, Miami is the southernmost market with mmWave 5G.
In Miami, there's mmWave 5G coverage in areas around downtown, inside the Miami International Airport, some high-transit parts of Little Havana, and the touristy areas around South Beach.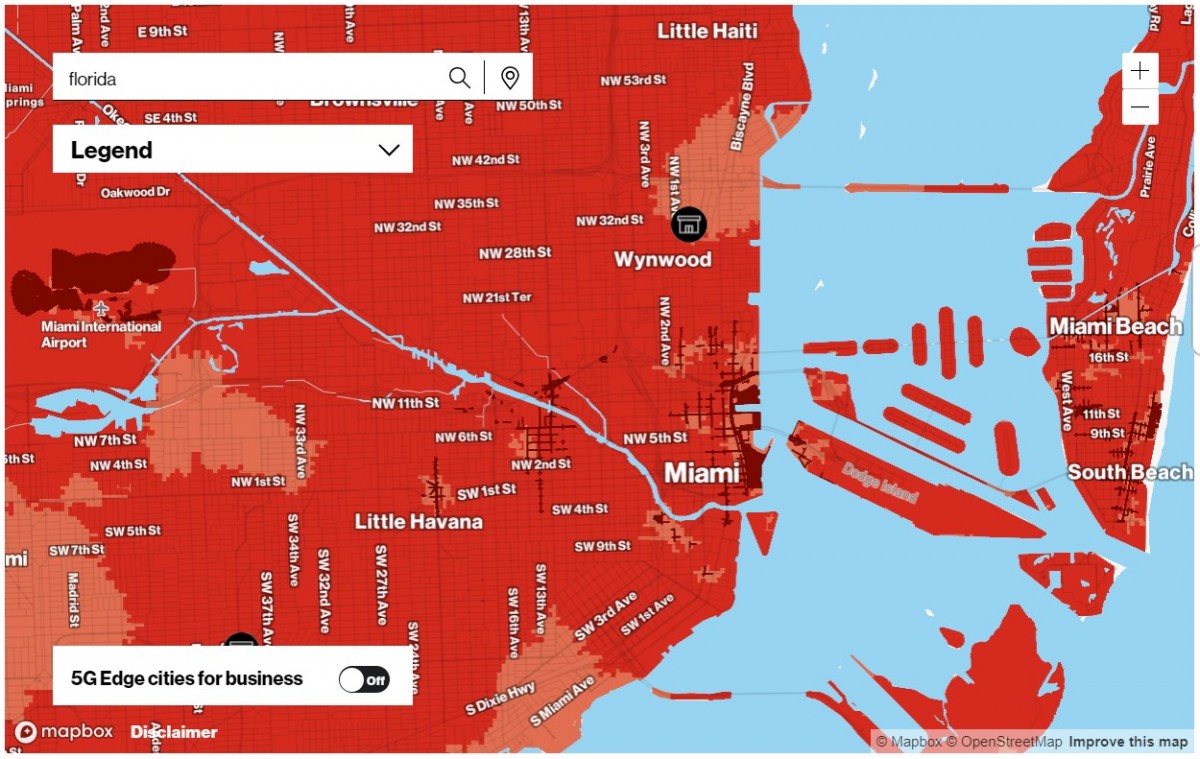 For our testing, we went down to Bayfront Park in downtown Miami and as soon as we saw the towers, we knew to look for the "5G UW" signal in the phone's status bar. Of course, this is the thing about mmWave 5G - if you lose line of sight, you lose signal.
Verizon's 5G UW network (mmWave) is on the 28 and 39GHz bands. These frequencies are several times higher than those normally used in any LTE band. As a result, the throughput is much higher, reaching download speeds of nearly 2 Gbps. The consequence of these frequencies and speeds is that the range (ability to reach signal from the node) is severely shorter than an LTE tower. Therefore, a denser mesh of nodes is needed to blanket mmWave 5G coverage in an area and is thus more expensive to roll out.
There were perhaps about a dozen of these access towers spread around the park we visited - which isn't very large, to begin with - it spans about four by two and a half city blocks. We sat down at a spot between two nodes and fired up the Ookla SpeedTest app. Here are a few speed test results recorded with the TCL 10 5G and the LG Wing 5G (also on Verizon).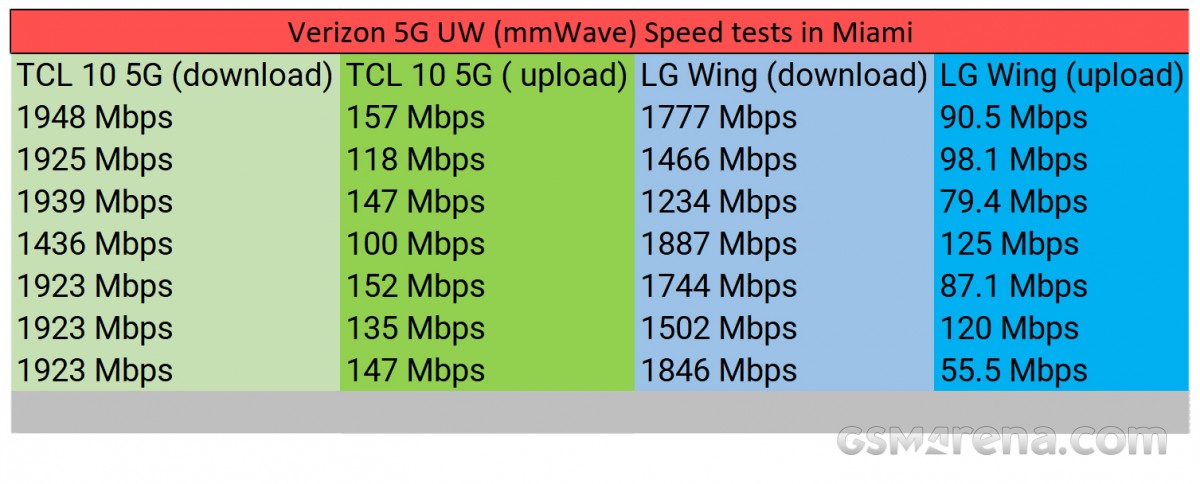 Notice how the speeds are more consistent with the TCL 10 5G UW than the LG Wing 5G, despite both having the same Snapdragon 765G SoC with Qualcomm X52 5G modem. I could only hypothesize that the 5G antennas were more prone to interference due to the funky, swinging display.
In a sort of real-world test, I downloaded a video from Google Drive on each phone. The video is the one we use to run battery tests for our endurance scores, and it weighs in at 833MB. On the TCL 5G UW it took 18.44s to download. Meanwhile, the LG Wing took 9.76s to download the same file.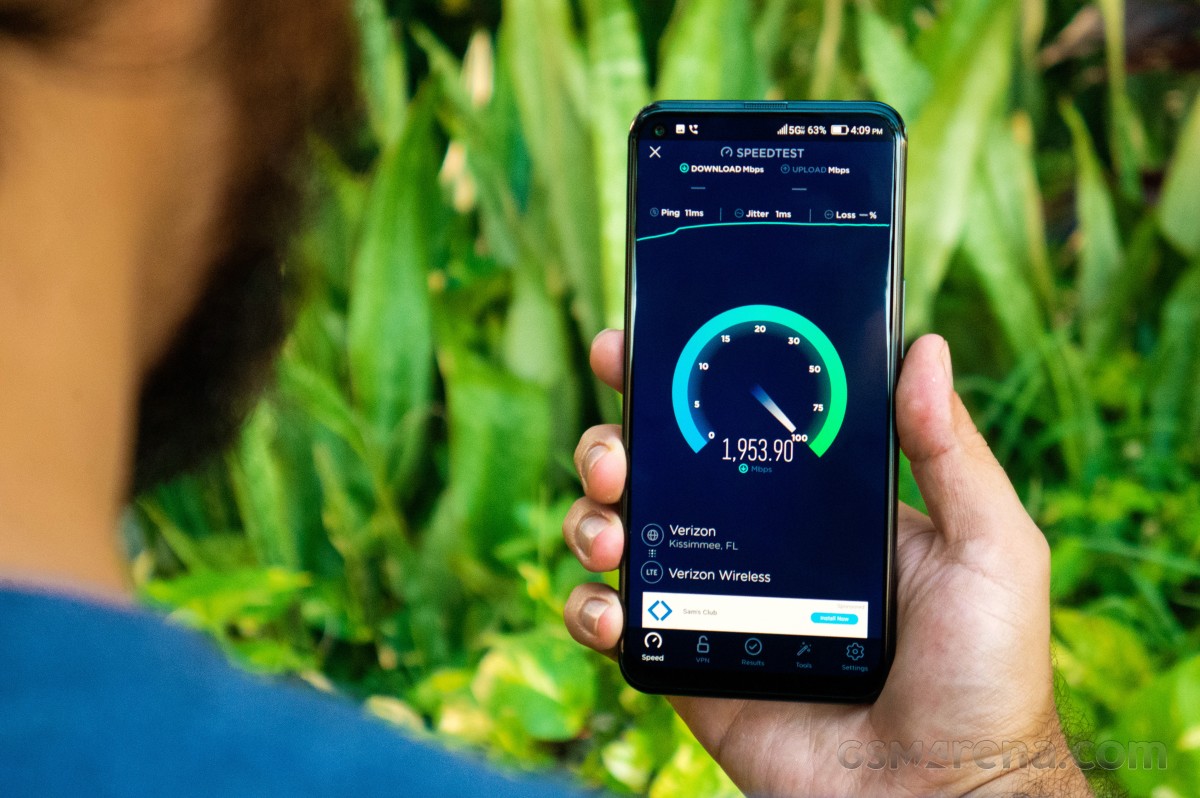 Then, I downloaded a couple of movies from Amazon Prime Video. The Wing downloaded a 2.91GB video in 21.16s. Meanwhile, the TCL 10 5G UW took 17.95s to download a 1.83GB movie.
Even the lowest numbers here are no slowpokes. Downloading large files in a pinch is literally the dream that 5G has been trying to sell us since it was first introduced, and today, in 2020, it's kind of reality. So let's talk about the practical and real-world implications of how this super-fast 5G could benefit your life and in what ways it cant.
5G in the real world verdict
Once we left the tightly packed mmWave 5G network, we were knocked back down to LTE speeds. In Downtown Miami, that was around 70 Mbps down and around 45Mbps up on the best runs. Funny enough, when the signal cluster showed "5G", speeds were slower than on LTE - 25 Mbps (or lower) down and 22 Mbps (or lower) up.
It's entirely possible that Verizon was still transitioning its 5G network on when I went down to run these tests, but customers seeing slower speeds when their phone shows "5G" isn't a good first impression.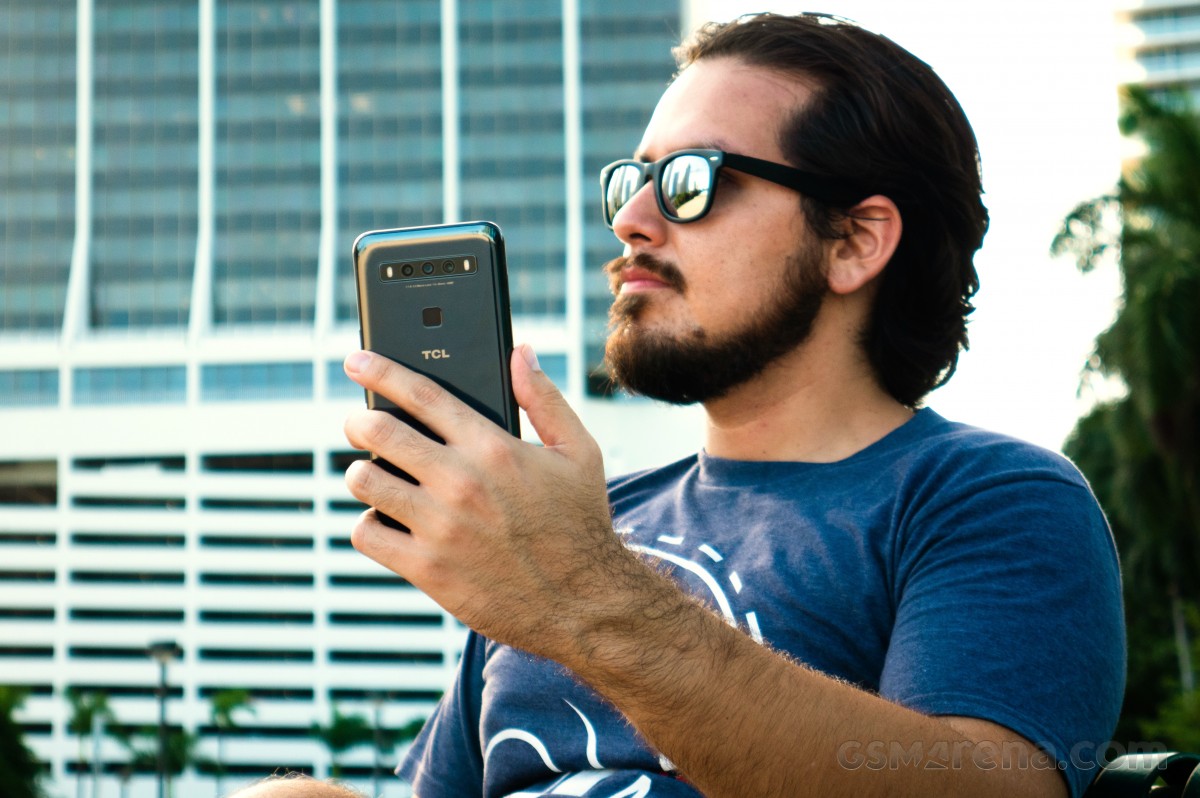 The Miami area has a dense population. It's flat and spans a large area, so capacity can be difficult to catch up with around here. There are certainly other cities with better performing networks, or perhaps the fact that we went to the densest area of Miami didn't help the LTE/4G speeds.
We love the idea that you can get last-minute internet within Miami International Airport and surf at Gigabit speeds while waiting to board your flight or while waiting at a public transit station before transferring to the Metro Mover. The COVID-19 pandemic has severely limited travel opportunities, and so we can't really reap the 5G benefits in these cases, but that's a whole different story.
But to sum up, it appears 5G mmWave technology is destined to only benefit major metropolitan areas or high-traffic tourist traps. Break-neck internet speeds for mobile devices are not only costly but also impractical in the long-run. It takes a lot of groundwork and infrastructure to build out a network with such high speeds, and the range is only good when you're outdoors or in large, open buildings such as airport terminals, within line-of-sight of the network tower/node. Not only that, but phones that support 5G UW require more internal space to fit the extra radio antennas.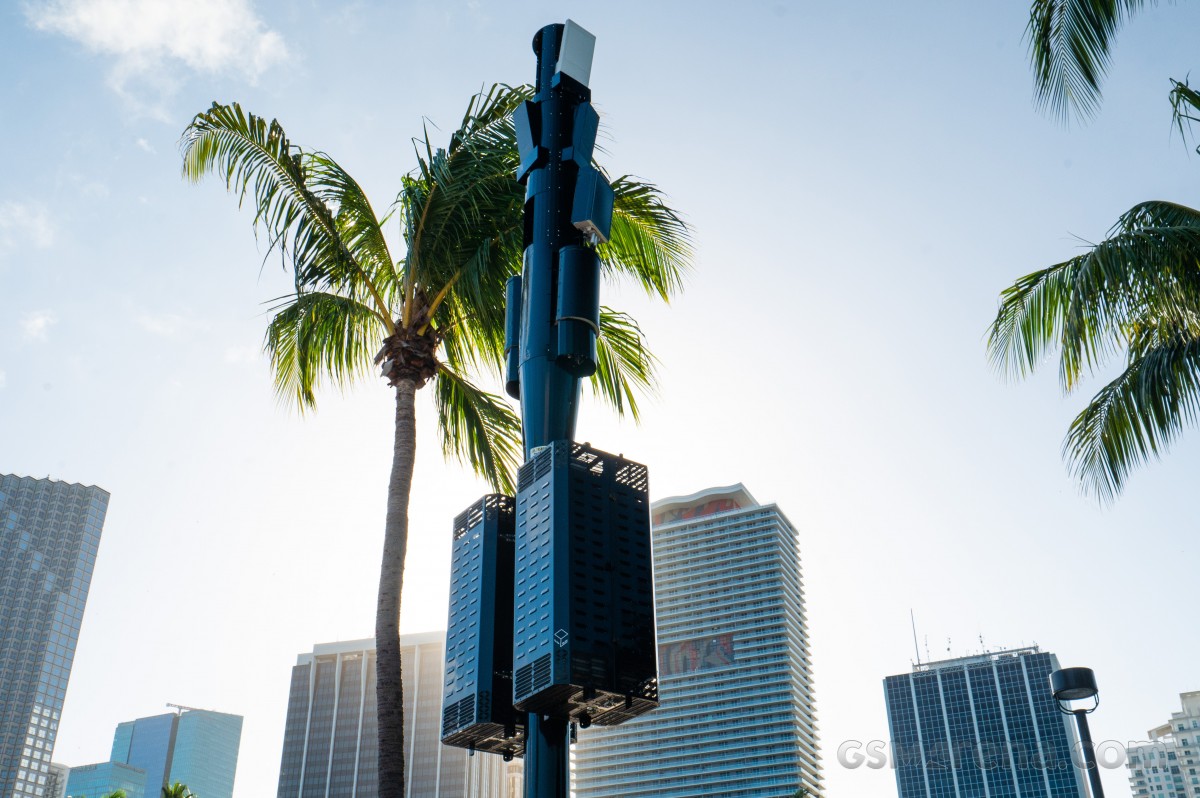 Lowband and midband 5G is already in the works across all major US carriers. As mid-band LTE spectrum is repurposed for midband 5G, we'll begin to see the real benefits of 5G over the next few years in the form of lower latency, higher capacity, and faster internet throughput.
Realistically, those speeds will be well under 1Gbps (down). In its current state, mmWave 5G is the carrier's flex to impress its customers and investors with blazing-fast speeds that over 90% of its subscribers might realistically never be able to benefit from.
The first question you might ask is: Should I get a 5G phone in 2020? I will say only if your budget allows and only if you understand that the decision might not benefit you in the same ways that carriers have been hyping. Otherwise, if you're lucky enough to live or work in these areas blanketed with mmWave or high capacity midband 5G, go for it!
https://www.gsmarena.com/tcl_10_5g_hands_on_verizon_speed_test-review-2196p3.php