Tom Brady Net Worth:
$200 Million
Tom Brady's Salary
$30 Million
Tom Brady net worth: Tom Brady is an American football quarterback and model who has a net worth of $200 million. That is a separate net worth from his wife, supermodel Gisele Bundchen who has a $400 million fortune on her own. Combined, Tom and Gisele are worth nearly $600 million. Brady has played in a record nine Super Bowls with the New England Patriots, winning six of them (as of this writing), the most of any player in NFL history. He has won a record four Super Bowl MVP awards as well as three NFL MVP awards over the course of a decade.
In 2020 Tom jumped from the his longtime home with the New England Patriots to the Tampa Bay Bucs. His two-year Bucs contract is worth $50 million and could include $9 million in incentive bonuses. By the time his contract ends, Tom will have earned north of $400 million from salary and endorsements during his career.
Early Life: Tom Brady was born on August 3rd, 1977 in San Mateo, California to a family of sports fanatics. He is the only son and fourth child of Galynn and Thomas Brady. He has three older sisters: Nancy, Julie, and Maureen. He was raised Catholic. In the 1980s, Brady regularly attended San Francisco 49ers games and was a fan of quarterback Joe Montana. Brady has called Montana his idol and one of his inspirations. At age four, Brady attended the 1981 NFC Championship, against the Dallas Cowboys, in which Montana threw The Catch to Dwight Clark. As a child, Brady attended football camp at the College of San Mateo, where he was taught to throw the football by camp counselor and future NFL/AFL quarterback Tony Graziani. Despite the rivalry between both teams, Brady grew up as a Los Angeles Lakers and Boston Celtics fan.
He attended Junípero Serra High School in San Mateo, where he graduated in 1995. He played football, basketball, and baseball in high school. Brady began his football career as the backup quarterback on the Padres junior varsity team. At first, Brady was not good enough to start on the 0–8 JV team, which had not scored a touchdown all year. Brady ascended to the starting position when the starting quarterback was injured. He became the varsity starter in his junior year and held the position until he graduated. By Brady's senior year, he was striving to be noticed by college coaches. He created highlight tapes and sent them to schools he considered attending. He finished his high-school football career by completing 236 of 447 passes for 3,702 yards and 31 touchdowns. He also won All-State and All-Far West honors and the team's Most Valuable Player Award.
The process of colleges recruiting high school athletes was much different in the mid-1990s. Athletes' rankings were not as prominent. In terms of recruiting today, Brady would have been considered a four-star recruit. Brady narrowed down his list to five schools: Berkeley, UCLA, USC, Michigan, and Illinois.
Brady was also known as a great baseball player in high school. He was a left-handed-batting catcher with power. His skills impressed MLB scouts, and he was drafted in the 18th round of the 1995 MLB Draft by the Montreal Expos. The Expos projected Brady as a potential All-Star and offered him money typical of that offered to a late second-round or early third-round pick. However, Brady was determined to play football at the next level. He signed to play for the University of Michigan in 1995.
At Michigan, Brady was a backup quarterback for his first two years, while teammate and future NFL quarterback Brian Griese led the 1997 Wolverines to an undefeated season, which was capped by a victory in the Rose Bowl and a share of the national championship. When he enrolled at Michigan, Brady was seventh on the depth chart, and he had an intense struggle to get some playing time. Brady battled for the starting job with Drew Henson and ultimately started every game in the 1998 and 1999 seasons. During his first full year as starter, he set new Michigan records for most pass attempts and completions in a season, for a total of 214. Brady was All-Big Ten honorable mention both seasons and was the team captain in his senior year. The Wolverines won 20 of 25 games when he started, and he set a school record for completions in a 31–16 loss against Ohio State in 1998, a season in which Michigan shared the Big Ten Conference title. Brady capped that season with a 45–31 win over Arkansas in the Citrus Bowl. The following year, Brady was instrumental in Michigan's 1999 Orange Bowl victory against Alabama.
Even after his impressive college career, Brady was still not an early draft pick. Tom was chosen in the sixth round of the 2000 draft, the 199th pick, by the New England Patriots.
Career: Due to his late selection, Brady is considered the biggest "steal" in the history of the NFL Draft. He went on to become the team's starting quarterback in his second season after an injury to Drew Bledsoe and has been with the Patriots for 20 seasons, the NFL record for seasons as quarterback for one team. He is one of only two quarterbacks to win a Super Bowl in their first season as a starter. Brady is the only quarterback to reach 200 regular-season wins. He is the winningest quarterback in NFL history and has never had a losing season as a starting quarterback. He has led his team to more division titles (16) than any other quarterback in NFL history. With a postseason record of 30–11, he is first all-time in playoff wins and appearances for an NFL player. Brady has led the Patriots to an NFL-record eight consecutive AFC championship games since 2011 (and 13 overall). Brady has also been selected to 14 Pro Bowls, which ties the NFL record for most selections.
For his alleged involvement in the Deflategate football-tampering scandal, Brady was suspended for the first four games of the 2016 season. Brady and the Patriots won two of the next three Super Bowls, making him the record holder for most Super Bowl wins by a player, and the oldest quarterback to win a Super Bowl, at 41.
In March 2020, Tom Brady announced that he was moving from the New England Patriots to the Tampa Bay Buccaneers. While in Tampa he rents Derek Jeter's palatial custom-built waterfront mansion at a cost of reportedly $70,000 per month.
Tampa Bay Contract: Tom's Tampa Bay contract is worth a minimum of $50 million over two years. He will essentially earn a base salary of $15 million plus a $10 million roster bonus each year. If he hits various milestones, the contract could pay as much as $60 million. Tom actually turned down a higher contract from the Patriots because it wasn't fully guaranteed.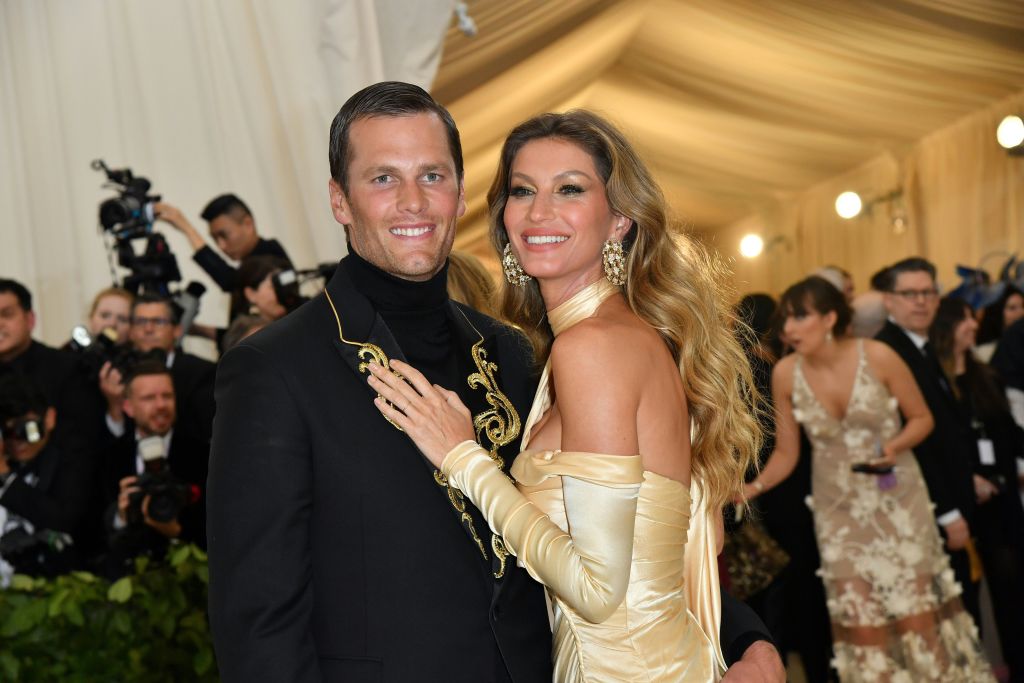 ANGELA WEISS/AFP via Getty Images
Personal Life: Brady dated actress Bridget Moynahan from 2004 until late 2006. On February 18, 2007, Moynahan confirmed to People magazine that she was more than three months pregnant with Brady's child. Brady and Moynahan ended their relationship sometime in early December 2006, around the time Moynahan became pregnant. John Edward Thomas Moynahan was born in August 2007.
Brady began dating Brazilian model Gisele Bündchen in December 2006. They were introduced by a mutual friend on a blind date. Brady and Bündchen were married on February 26, 2009, in a small ceremony at St. Monica Catholic Church in Santa Monica, California. In April 2009, the couple had a second ceremony in Costa Rica. Their son was born in 2009 and their daughter was born in 2012.
Brady's strict health regimen includes Transcendental Meditation, yoga, an 80/20 diet (meaning 80% alkaline and 20% acidic), early bedtime, resistance training, and neuroplasticity training. He and his family adhere to a controversial strict diet, the TB12 Method. He advocates drinking 1/32 of one's body weight in water daily. He does not eat most fruits, mushrooms, tomatoes, peppers, eggplants, coffee, Gatorade, white sugar or flour, gluten, dairy, soda, cereal, white rice, potatoes, and bread.
Salary Highlights: Brady has an annual salary of $30 million. Between 2000 and 2019 while Tom was with the Patriots, he earned $230 million in his career from salary alone. In the same time frame, he earned an additional approximately $100 million from endorsements. During the same period, Gisele Bündchen's career earnings were nearly $500 million.
By the time his two year deal with the Tampa Bay Buccaneers ends, he will have earned a minimum of $280 million in salary and $140 million from endorsements. So by the end of his career, Tom Brady's career earnings should top $420 million.
Real Estate: In early 2020, Tom and Gisele slashed the price on their Massachusetts home. The custom-built home in a gated community in the suburb of Brookline hit the market in 2019 for $40 million. The 5-bedroom, 7-bathroom home's price was cut to $33.9 million in January 2020.
In 2009, Tom and Gisele bought an undeveloped plot of land in LA's Brentwood neighborhood for $9 million. Over the next three years, they spent an additional $20 million constructing a 14,000 square-foot home which they ended up living in for less than a year. In May 2014, Dr. Dre bought the property from them for a cool $50 million. Not a bad way to make $31 million.
https://www.celebritynetworth.com/richest-athletes/nfl/tom-brady-net-worth/