Troy Aikman Net Worth:
$50 Million
Troy Aikman's Salary
$7.5 Million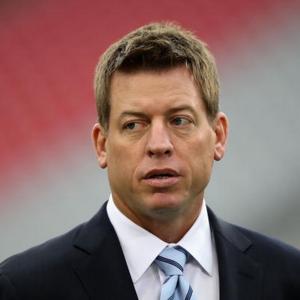 Troy Aikman net worth and salary: Troy Aikman is a California-born, retired NFL quarterback who has a net worth of $50 million dollars. Troy Aikman is most-famous for being the quarterback for the Dallas Cowboys for 12 seasons between 1989 and 2000. He was the number one overall draft pick in 1989, and won multiple awards during his time with the Cowboys, including being a six-time Pro Bowl selection and receiving the Super Bowl XXVII MVP award. He was inducted into the Football Hall of Fame in 2006 and currently works as a sportscaster for Fox Network.
Career NFL Earnings: During his NFL career, Troy earned $27.4 million in base salary and $17.85 million in bonuses for a total of $55.5 million. In 1993 he was the highest-paid player in the NFL thanks to an 8-year $50 million contract which included an $11 million signing bonus. That's the same as signing a $90 million contract with a $20 million signing bonus after adjusting for inflation. At the time of his retirement, his salary was $7.5 million.
Broadcasting Career: Troy has worked for many years as a television commentator for Fox. In the beginning of his broadcasting career, he earned just $1 million per year. By 2019 his salary had been boosted to $7.5 million per year which made him the highest-paid sports broadcaster in the world. Though that record is rumored to have been broken by Tony Romo's reported $14 million per year ESPN deal.
Outside of football, Aikman is a successful an investor. He is a former joint owner of the NASCAR Sprint Cup Series racing team Hall of Fame Racing. His partner in this deal was fellow former Cowboys quarterback Roger Staubach. Aikman is a minority owner of the San Diego Padres. He is also a partner and spokesman for IDLife, and made millions when a local restaurant he frequented during his Dallas Cowboy days (and eventually owned stock in) called Wingstop went public.
Troy Aikman was married for 11 years to former Cowboys publicist, Rhonda Worthey. The couple have three daughters: Rachel (from Worthey's previous marriage), Jordan, and Alexa. In 2011, they announced their separation and they were divorced officially in 2012. In addition to splitting their real estate assets, Troy ultimately paid Rhonda a $2 million cash settlement.
In September 2017, Aikman married fashion retailer Catherine Mooty.
Real Estate: In 2011, as part of his divorce, Troy listed the family's long time home in Highland Park, Texas for $27.54 million. It was the most expensive home listed for sale in Texas at the time. He lowered the price to $14 million in 2012. As of this writing he has not yet found a buyer.
Other rich retired NFL quarterbacks:
Steve Young Net Worth and Salary
Joe Montana Net Worth and Salary
John Elway Net Worth and Salary
https://www.celebritynetworth.com/richest-athletes/nfl/troy-aikman-net-worth/