Kenya and UK have signed their first post-Brexit agreement after four months of negotiations.
The deal was ratified on Tuesday by Trade CS Betty Maina and Britain's minister of International trade Rahul Jawayardena.
Rahul commented on the deal saying, "From florists to cafes, this deal supports livelihoods in both our countries and provides the platform for us to forge deeper ties in the years ahead!"
Announced on his Twitter page, Kenya's high commissioner in London Manoa Esipisu hailed the deal as a win-win situation for both countries.
The trade deal between Kenya and Her Majesty's Government will see local investors and supply chains continue to trade post-Brexit without being subjected to non-tariff trade disruptions such as quotas and multiple taxes.The deal will facilitate duty-free and quota-free access of Kenyan and East African exports to British markets. Kenya becomes the UK's 5th largest market since Britain detached from the European Union.
As currently sits, Kenya exports to the United Kingdom was US$396.75 Million with agricultural goods as the main commodity. Britain is Kenya's largest trading partner outside Africa, a relationship cemented by the binding cord f history between the two countries.
Tea and coffee top the list of exports with machinery and pharmaceuticals coming the other way in a delicate balance of trade. Kenya continues to enjoy trade privileges being a member of the Commonwealth group of nations.
The fruitful negotiations were birthed during Kenya - UK business forum organized during Uhuru's visit to London earlier in the last financial year. The president pledged to maintain Kenya's sustainable political stability which creates a conducive business environment for foreign investors.
Prime minister Boris Johnson reiterated UK's support to African countries as they scale up progress towards a stable African economic community. He gave voice to the fact that half of the tea drunk in the UK comes from Kenya as an agricultural export.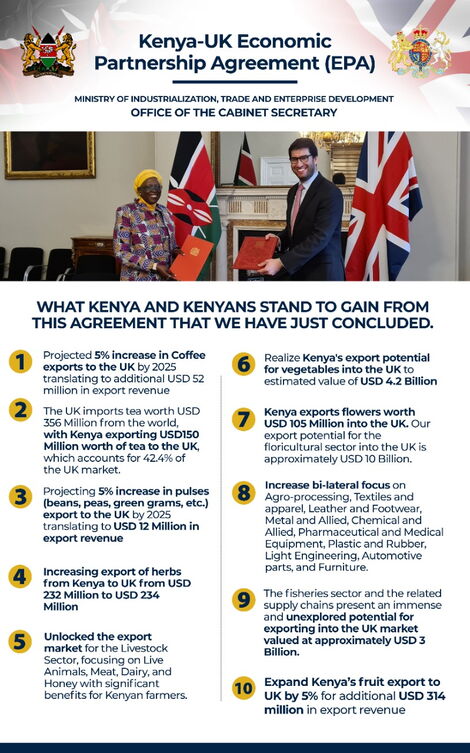 https://www.kenyans.co.ke/news/60084-kenyan-entreprenuers-can-acess-british-markets-tax-free