Nairobi Matatu Operators are up in arms over the move by Nairobi Metropolitan Service (NMS) to ban Public Service Vehicles (PSVs) in the Central Business District (CBD).
The matatus are asking the government to issue Saccos with the number of BRT vehicles to purchase in order to allow them access CBD when the matatu ban will be enforced.
This comes after Swedish automotive giant Scania entered the competition for the provision of Bus Rapid Transport (BRT) services by unveiling a 91-passenger bus.
The operators are also asking the government to allow a few select matatu Saccos to access the CBD and not only the BRT vehicles.
Mema Sacco representative Lenson Njiru noted that the matatus were excluded from the consultations on the implementation of the BRT service.
"There was no consultation in implementing the BRT service because they would have approached Sacco's, we have the capacity to buy the buses.
"Every Sacco would be allocated a number of slots to buy the BRT vehicles," he explained.
The matatu operators are also claiming that the termini earmarked for use when the PSV ban will be effected will cause more congestion due to their limited space.
"They want us to move to the termini set aside for matatus outside the CBD, but the spaces are not enough for all matatus.
"For example, the Green Park Terminus might only be enough for matatus plying Ngong Road," explained one of the matatu drivers.
The sick are set to be the most affected once the ban of matatus in the CBD is effected due to the distance travelled from one terminus to another across the CBD, according to the matatu operators.
"We have sick people who want to go to Kenyatta National Hospital (KNH) and we have the disabled.
"If you drop them at Muthurwa, BRT cannot operate along Jogoo Road, it can only operate along Waiyaki, Mombasa and Thika Road, and so they will be left stranded," noted one of the operators.
BRT system is aimed at easing traffic congestion in Nairobi where low capacity vehicles will be barred from entering the City.
The Scania BRT buses arrived into the country on Wednesday, January 6 that comes with 37 seats includes wheelchair spaces and spaces for 54 standing passengers.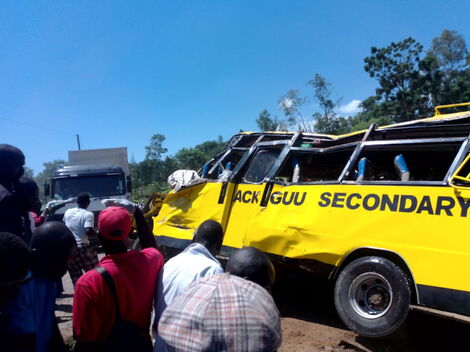 https://www.kenyans.co.ke/news/60997-matatu-operators-arms-brt-buses-arrive-kenya