The Nairobi Metropolitan Services (NMS) on Thursday, January 14 responded to the public after an outcry of heaps of garbage littering various estates in the city.
Concerns from Nairobians have been growing due to increasing garbage dumping causing some roads to be impassable.
NMS highlighted the filth that has engulfed Eastleigh which has been one of their biggest hurdles in maintaining a clean city."Dear Kenyans, this is garbage dumped in Eastleigh along the median strip/reserved area separating opposing lanes of traffic in Central Eastleigh.
"An eyesore and indisputably, ticking health time bomb, a culture that remains the biggest impediment yet to a Green, Clean City," read a statement from NMS.
NMS Director, Compliance and Delivery Services, Rachael Maina and Nairobi Regional Commander James Kianda flagged off garbage collection trucks in Eastleigh, Kamukunji Constituency.
The exercise was championed by NMS's Compliance and Environment directorates where trucks carted away 15 tonnes of garbage left on road reserves and front yards of residential and commercial premises.
NMS also announced a monthly clean-up exercise on the first Saturday of every month with the commencement date to be shared soon.
This comes after a number of residents across the city complained of garbage-littered roads which posed a health risk to them.
On Thursday, January 7 residents of Huruma flats in Mathare, Nairobi faulted the NMS for failing to clear garbage that has blocked a major road.
Matatu drivers plying the route have expressed their dissatisfaction with the services asking the NMS to clear the garbage.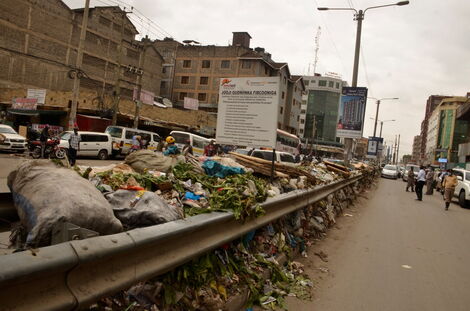 "This county has the NMS and NYS, but I wonder what work they are doing. One of the services should act on the garbage because they have lorries to do so.
"The garbage is not being collected. The road is wide, yes, but vehicles cannot pass because of the garbage. It's sad because the government spends a lot of money building roads," stated one of the matatu drivers.
https://www.kenyans.co.ke/news/61152-nms-issues-statement-after-outcry-nairobi-estates