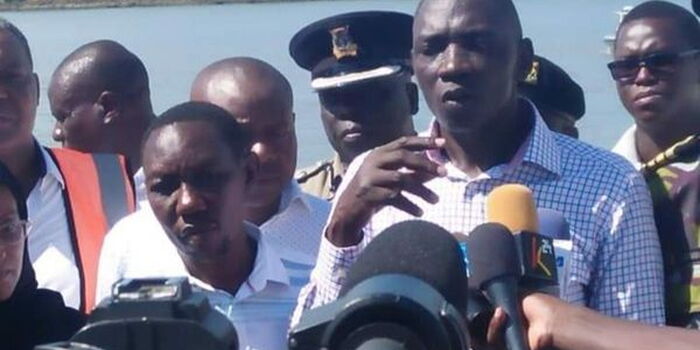 After news spread that the bodies and a vehicle belonging to the two victims whose car slid off the ramp of a Likoni ferry into the Indian ocean had been found, Government Spokesman Cyrus Oguna, would moments later give conflicting information that left many wondering what the actual truth what in the October 9, afternoon development.
While addressing the press during a media briefing, Oguna stated that they had only seen 'something that looked like a car', and unlike what KTN News journalist reported to have witnessed on live TV, no vehicle had been retrieved from the waters.
"At around 2-3 pm, the Kenya Navy divers stated that they had seen something resembling what was being searched for," Oguna remarked.
He countered earlier claims that indicated bodies of the two and the vehicle had been found, claiming that it had not yet been established if the vehicle spotted was that used by Mariam Kighenda and Amanda Mutheu or even whether it was indeed a car.
He also added that photos would be studied for them to get a clear picture of what the object shown in the photos taken by the divers was.
"We are using the elimination method. The divers spotted and photographed what they believed to be the car, but we have to analyse the photos to determine if indeed it is the car. We also have to make out the number plates," Oguna told the press.
Oguna's remarks dashed the hopes of the bereaved family and Kenyans now invested in the recovery process especially after journalists reported in great length the retrieval of the said car.
He, however, expressed hope that their analysis of images would confirm that the object sighted was the car of interest, still steering clear of the claims broadcasted by KTN News.
"My colleagues and I are quite hopeful that the vehicle we've seen was the one that fell off the ferry," he stated.
Oguna thanked the family of the two for their continued patience during the search.
This update was made after an 11-day search of the car that slid from the Likoni Ferry on Sunday, 29.
Below is a video of Oguna's statement and the KTN News report claiming the bodies had been recovered;
https://youtu.be/
https://www.kenyans.co.ke/news/44907-likoni-tragedy-update-causes-confusion-video