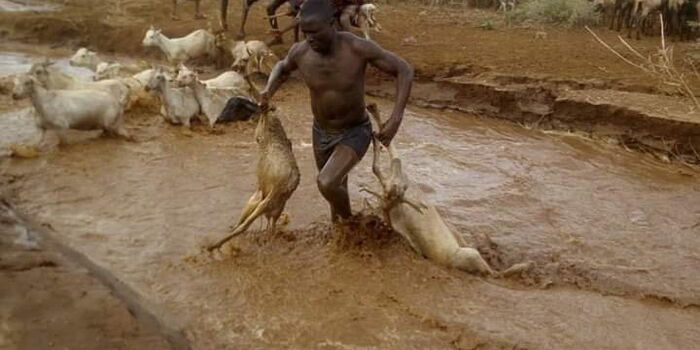 Images of a police officer based in Loglogo, Marsabit County, on Monday, October 21 went viral across various social media platforms.
Identified as Kevin Otunga, the officer set aside his blue regulation uniform and plunged into murky waters to save several herds of sheep and goats that were trying to cross a flooded river.
Armed with nothing but his bare hands and sharp wits, the officer went about saving and helping to get the various livestock across the rivers' heavy current that resulted from the flashfloods witnessed in the area over the previous two weeks.
Officer Kevin Otunga helps a sheep across the dangerous river, October 21, 2019
Officer Kevin Otunga helps a sheep across the dangerous river, October 21, 2019
Coincidentally, his heroic act came on a day the country had set aside to remember its national heroes.
Officer Otunga reportedly decided to take matters into his own hands, in a bid to alleviate the gloom that had canvassed the entire region.
"We celebrate this dedicated police officer Kevin Otunga based in Loglogo location Marsabit county. Who went out of his way to rescue the drowning animals from being swept away by floods," the Secretary for Delivery and Head of President's Delivery Unit, Andrew Wakahiu shared on twitter.
This came just a day after Marsabit Governor, Mohamud Ali, skipped the Mashujaa Day celebrations to respond to a floods crisis in his region.
He headed a team from the county and national governments to Badanrero, Dabel, Bori and Dirdima areas which were worst hit by the flooding.
According to a report by The Standard, the floods devastated the region over the preceding two weeks, with at least 10 confirmed deaths as well as countless cases of animals being swept away.
Meanwhile, a 13-year-old girl and unnamed woman lost their lives during flash floods in Wajir North on October 15, 2019
Source https://www.kenyans.co.ke/news/45442-heroic-officers-rescues-drowning-animals-raging-floods